What's new in Blender 2.8
Posted on: 15 December 2019
By:

dexter
Blender 3D is a Free and Open-source 3D creation suite.  Blender has been there since 2003 (open-source) and we have seen it evolving over a period of time into a really amazing tool. The release Blender 2.80 is exciting in terms of a completely revamped interface a lots of new features. Lets have a look at what's new here
New Theme and Icons
The version 2.8 has a completely new revamped look and feel, it features a new dark theme and a modern icon set (and a bit colourful too). Compared to the previous version the default view look cool and friendly as compared to the earlier versions. The primary aim is to avoid all distraction while working with the tool.

---
Default templates available directly
Now when you do a "File >> New" you are given an option to start with the required template.
General: For 3D modelling, shading, animation and rendering.

2D Animation: grease pencil based 2D drawing and animation.

Sculpting: simple setup to get started with sculpting.

VFX: motion tracking, masking and compositing for visual effects.

Video Editing:  for using Blender as a video editor.

---
 Selection with mouse
This has to the be the biggest change anticipated and asked for, for a very long time.  The default selection is now with the left click of the mouse. Though this make it tough for old users and took some time to get used to the new right click select.
But this introduction completely removed the first thing that was needed to learn in earlier versions of Blender -- select with right click :)
And by default the right click and drag is set to box selection model, this make it very comfortable and intuitive for the selection process.
---
 Context menu on right click
Another wonderful addition is the context menu popup which on right click, no need to search or remember related operation location, just right click and a menu pops up with the related context.
Image shows a face selected from the mesh and right click pop-up menu automatically shows related operation in the context of face.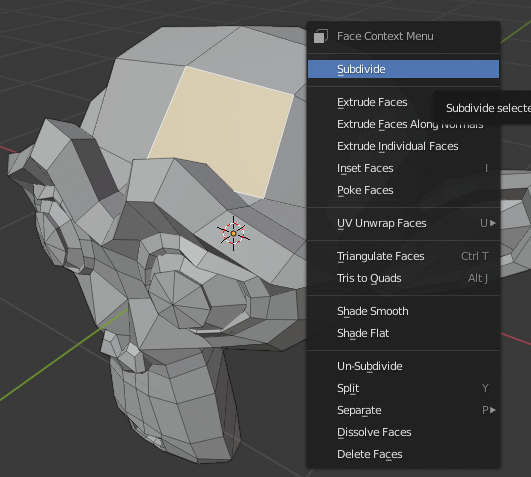 ---
Quick Favourites menu
Once you start working with tools like blender, according to you work needs you will be accessing certain thing frequently. Blender 2.8 is now available with a Quick Favourites, this is available on the press of the key "q".
The menu is initially empty, of course, as you have to decide your favourites.  Any tool/menu etc can be added by right clicking on it and selecting the option "Add to quick favourites".
---
Pie menu
A pie menu is a pop-up in shape of a pie. There are multiple pie menus available for different contexts (Orientation (,) Pivot (.) viewport (~) shading (z) Snap (Shift-S) and Proportional Editing Falloff (Shift-O) )
Idea is simple, while pressing the associated key from keyboard (while keeping it pressed) one just need to move the mouse slightly in the direction of the needed operation, and release the key. Note one does not have to move the mouse pointer completely to the operation icon on pie menu, just a small slide towards the direction is needed.
Over a period of time you will automatically remember the movements and you will not even have to look at the menu.
---
New render engine Eevee
Blender now default to the much awaited render engine Eevee, replacing the default blender render. Blender render is removed form 2.8.  Cycles is still there.
Eevee Is a new physically based real-time renderer. Features such as volumetrics, screen-space reflections and refractions, subsurface scattering, soft and contact shadows, depth of field, camera motion blur and bloom….
Unfortunately the Game engine is also gone.
---
Shortcut Keys
There have been a lot of changes to shortcut key to match the industry standards. More details can be found at https://docs.blender.org/manual/en/dev/interface/keymap/introduction.html
Happy Blending